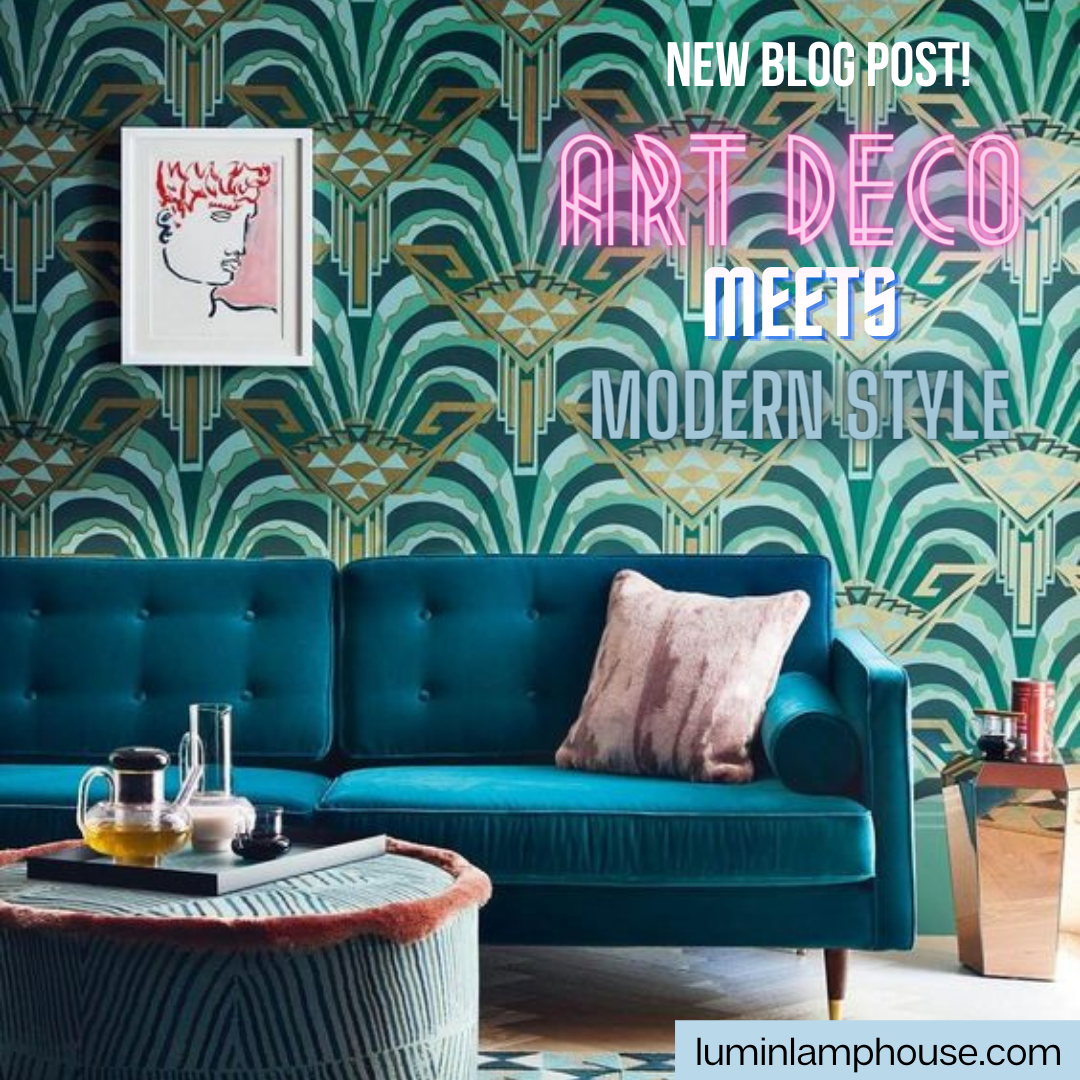 Art Deco meets Modern Style - Living Room Lighting Ideas
Art Deco: a unique strong decorative style, born out of a desire to portray the past breathtakingly. The art deco movement shed glamorous decorative, decadent and detailed features, and is defined by patterns and oversized geometric shapes. Lighting features play a very important role in an Art Deco setting, that is why in this blog post we intend to show you different options you can find in Lumin Lamp House to achieve your dream space. 
..
Such an elegant, and exquisite living room idea. An art deco and modern fusion that meets uniqueness, and cautivates the eye. The blend of light pink, pine green, gray, white and gold creates a soothing palette, providing comfort, and plenty of style. Our
Grayson Crystal Chandelier
adds a beautiful and elegant touch, with its multiple hanging crystals, and ideal width, makes the space more special, and stylish. 
 ..
Who wouldn't want to hang around this soothing, tidy, comfortable all-white living room, where elegance meets art deco style. We love how the art deco movement integrates comfortable upholstered armchairs as essential, without matter the color, it is all about fluffiness, and comfort. Our
Liuna Modern Chandelier
is a multi-head modern black and gold light piece with half gold half white light bulbs, that bring in a modern feeling to the room, and its thin steel cords make the light look like suspended in mid-air. 
..
Check out this sweet, fabulous, and luxurious Art Deco living room area with a practical, and incredible breakfast nook. Gray and light pink makes a tremendous combination, and it is no exception for an art deco design. A set of four pink suede velvet chairs with golden frames, and legs, gathered with a round marble dining table has to have a striking set of lights to finish up the job. A set of our Bronze Monza Pendant Light makes a delightful look, and provides a very chic, beautiful style. 
..
 Last but not least, how about this gorgeous pine green suede couch with mustard coloured cushions! This combination is a win win choice. We absolutely love this living room look with gray surrounding walls, and floors that make the green couch stand out amazingly. The lighting fixture in this look is essential to add more texture, and break the monotony between all the grays. The Sigma Bistro Milk Frosted Glass Chandelier is a great option to potentiate the look even further. 
..
We hope this different Art Deco living room ideas turn out inspirational and useful for you. Art deco is a great design style to have a unique, wild, and original style. Its captivating features stand out amazingly, and will make the space very glamorous. 
Let us know which living room style you liked the most! 
See you next thursday, xx
Lumin Lamp House