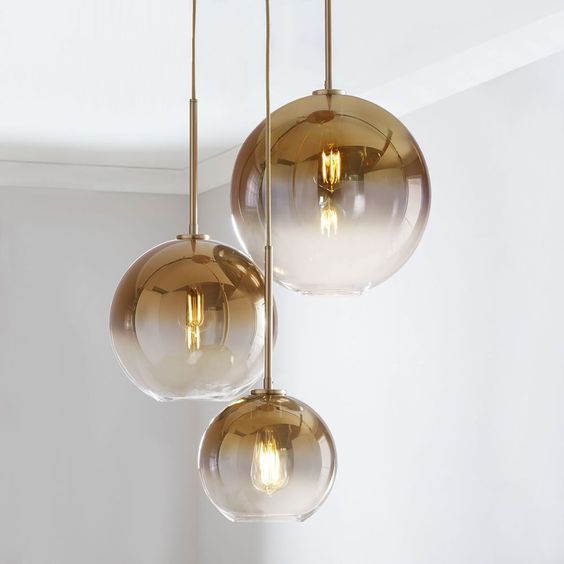 How High Should I Hang My Pendant Lights?
This is a very common question among our clients when they are about to purchase a pendant light for their home. If you are a beginner in the whole decorating topic, it is important that you know the exact height requirements, and spacing before placing your new lightning pieces. 
First of all, let's evaluate where you would like to install your pendant lights...
THE BASICS OF PENDANT HANGING HEIGHT FOR COUNTERTOPS
Are you planning on redecorating your kitchen? Pendant lights over a kitchen island or counter are a lately common design element in modern homes, providing both functionality and esthetic appeal to the room. The main consideration in deciding the proper height to hang a pendant light should be the amount of space between the countertop and the pieces of lightning, that is why is very important that the measurements should be made from the counter upward, rather than from the ceiling downard. 
 Generally speaking, the lights should be hanged approximately between 30-40 inches above the countertop, in order to allow yourself to sit comfortably, and without them damaging your vision while you look at people across the kitchen island.
Of course, this are rough numbers that you can play with. If you are an exceptionally tall person, or anyone from your family is, then 42 inches from the countertop to the bottom of the pendant light structure would be perfect. Or otherwise, if you are a short person, 29 inches would be more than enough. 
  Again, this gives general guidelines for you that you can play with.  If you are an exceptionally tall person, then 42" from the countertop to the bottom of the glass shade on the pendant could be the perfect height.  If you are a little on the shorter side and like the way a lower hanging pendant looks or you have shorter ceilings and want to see a little extra cord, go for 29" from the bottom of the globe to the surface of the countertop, no problem. 
HANGING HEIGHT OVER  A TABLE 
If what you are aiming for, is decorating your dining room with a lightning fixture, the recommended height to hang a pendant is 28-36 inches. This is a more flexible decision, it depends on your personal preference, fixture size and ceiling height. It could be slightly higher or lower, and it would still look amazing! 
A very useful tip for both places in hanging pendants, is to hang the fixtures high enough so that while you are standing you are no staring directly into the lights. 
Remember,  the most important thing to keep in mind while decorating your space is to make it your own, choose pieces that fit your style, and make you feel welcome whenever you walk through your entry door.