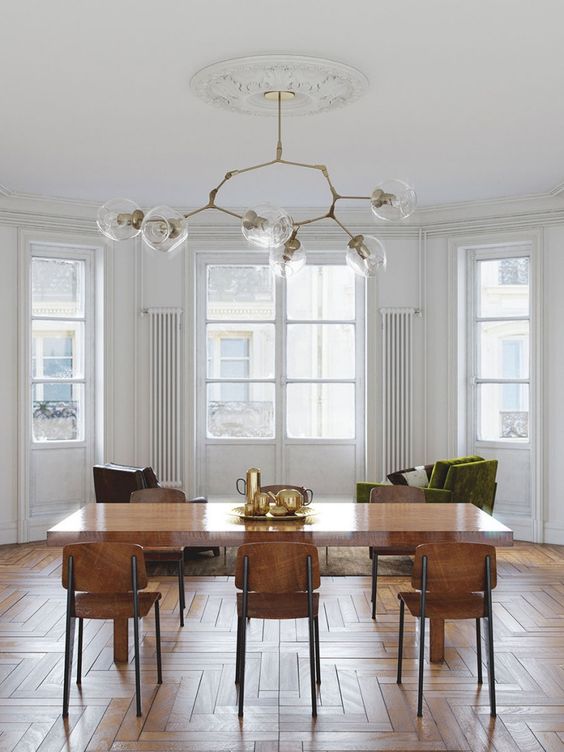 How To Choose The Perfect Ceiling Light?
Ceiling lights are often forgotten or rather ignored the aspect of interior design and lightning. An indoor space changes so much when the right kind of ceiling lamp is settled because lights have a lot more purposes than you realize. There are several kinds of ceiling lamps, and each of them is destined for specific spaces... From pendant lights, chandeliers to flush mount ceiling and track lighting. The truth is nowadays there are so many lamps to choose from, that when it comes to decorating your home it might get difficult to choose the right type of ceiling lamp! 
Pendant Lamps
 These beautiful pieces are suspended from the top, usually a long way down, using a cable or string. Pendant lights have become a very popular trend in home lighting. There are plenty of shapes, colors, sizes, materials and luminosity, which makes a rather "austere" space, stand out much much more. Pendant lamps are usually best for kitchen counters, kitchen islands, dining tables, or living rooms, providing a big improvement in your home space. 
Chandeliers
Since always, big hotel lobbies, swanky offices, and modern homes are decorated with big, stunning chandeliers. Nowadays, chandeliers have "evolved" somehow, there are modern, with cutting-edge design, rather than the typical old-school, classic crystal beaded chandeliers. Chandeliers provide a focal point in a room; they definitely have a lot to offer any room with regard to adding unique style, while still providing light that is actually useful. You can find so many styles of chandeliers, from traditional, elaborate designs to minimalist, boho, modern, and experimental designs.  
FLUSH OR SEMI-FLUSH MOUNT CEILING LIGHTS
As the name suggests, this type of ceiling lights is mounted flush onto the ceiling, making it seem like the light is coming through the ceiling. These types of lamps are best used for rooms with low ceilings, given the fact that they don't occupy that much room.  These pieces are the best option to prove ambient lightning, but still give a very stylish touch to your space. 
Summing up...
The kind and intensity of lightning you want to provide to your space will be the determinant to choose your lamp style. The ceiling height has a great influence on the right selection, and the decoration style you want to provide to your room too. 
It is important that you let your creative skills flow, and have a beautiful home space with your personal touch. Experiment with diverse lamp styles such as floor lamps, sconces, and table lamps. By doing this, we are sure you will have the home-style you want to achieve. 
Lumin Lamp House offers various lamp styles to choose from, browse through our collections now!
Here you have a very useful video.