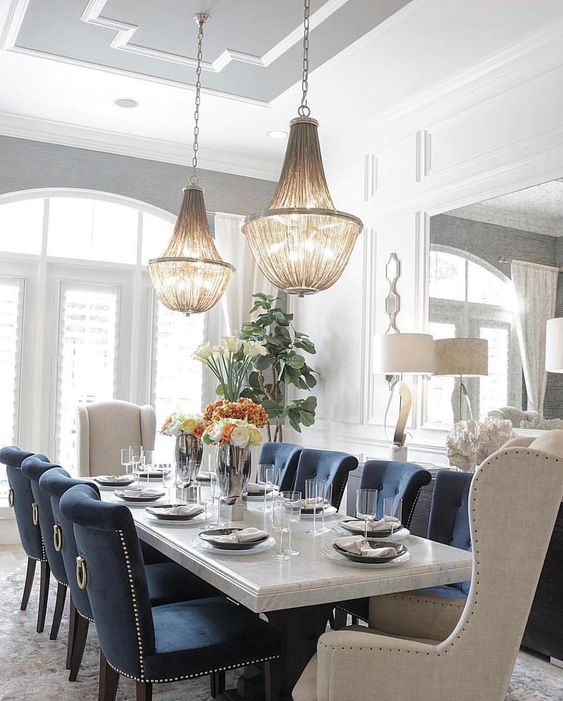 3 Basic Tips for Choosing the Perfect Chandelier
Finding the right chandelier can be quite a quest. We all have had big crushes on beautiful chandeliers but aren't sure if it would be right for OUR room. Think of a chandelier as a piece of jewelry that adds the perfect finishing touch to your outfit. It is that one thing that takes your look from nice to absolutely gorgeous.
A chandelier can add a new level of beauty to any room.
But how do you know what the right chandelier is for you and your space? Too big? Too small? Wrong style?
Here is all you need to know so you can answer these questions and more by yourself.
The  3  most important chandelier tips for choosing the perfect fixture to bring in the final touch to your home decor.
It's all about the size
Don't be shy when it comes to a chandelier,  go big or go home! When it comes to figuring out if big or small or how many you will need– you can use this simple rule.

A large chandelier can be tempting, but how do I choose so its not too much?
Chandeliers for a Dining Room:
Your chandelier should be about 12 inches narrower than the dining table surface.
The design should also have at least 4 feet of distance from the room walls. The chandelier should be able to breathe and sort of float inside the room. This is vital so that the room doesn't feel crowded. 
Chandeliers for a Living Room or Entryway:
For every foot of ceiling height allow 2-3 inches in chandelier height.
Its easy to find the right size simply by taking the total length and width of the room and convert the total to inches.
For example, a room that's 10-feet x 12-feet would require a design that's around 22-inches wide (10 plus 12 gives you the width of 22)
Sometimes 2 or 3 is better than 1
Sometimes one chandelier is enough for over a dining table or kitchen island. But sometimes, 2 or even 3 are much better if you have space. 
When it comes to a long table take into account the length in lighting. You want to illuminate the center 2/3 of the table.
If you have such a case, several smaller chandeliers work better than a large one.

In our dining room, this 9′ long table has two 23″ chandeliers which illuminate it perfectly without feeling too heavy.
Style up the room
It doesn't really matter if you are into a bohemian, modern, minimalist, or vintage-inspired. What message and feeling do you want to send through your chandelier?
Do you want to make a statement? Do you want it to sand out? Do you want it to blend along? Is it the elegance bringer? The choice is all yours when it comes to how you want the room decor to feel. Remember, the chandelier is your best friend and ally. 
If your room if full of architectural interest and charm- something traditional and elegant will compliment perfectly.
If it is spare and modern in design –you can choose to keep things symmetric and simple.
Do you want your chandelier to be quiet and blend in or do you want it to stand out and show off your style? 
We hope these 3 tips help you choose your perfect chandelier for you. We are sure you will find a suitable option on our chandelier collection, with selected design pieces to suit your taste no matter the style or budge.- Click here to see the Lumin Lamp House Chandelier Collection.
Do you have a style in mind? Contact our customer service with your ideas and a professional will reach back with amazing FREE decor advice.